Measuring Equipment
A set of products to carry out your tests and measurements.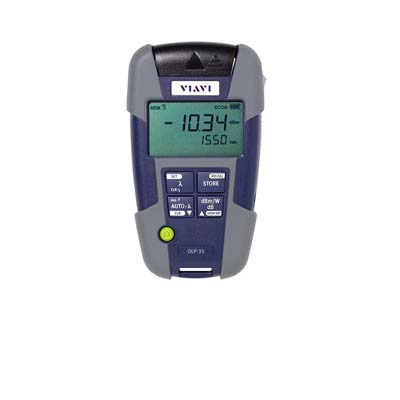 Capteur de puissance optique VIAVI – OLP-35 V2
Les nouveaux photomètres OLP-3xV2 de VIAVI Solutions permettent d'effectuer des tests de photométrie (mesures de puissance optique et d'atténuation de liaison optique) de manière simple et rapide.

Facile à utiliser quel que soit le niveau d'expérience du technicien, les wattmètres SmartPocket V2 peuvent être utilisés avec les sources optiques VIAVI (OLS) pour les mesures d'atténuation et les tests de continuité des réseaux multimodes et monomodes, et dans tous les environnements.
Technical description
Autonomy :

70h

Storage :

1000 results

Weight :

0,2kg
Characteristics
Admissible power :

-65 et 10dBm

Calibrated wavelengths :

850-980-1310-1490-1550-1557-1625-1650nm
Appliance
Measurement of optical power levels and link attenuation of singlemode and multimode networks
Network construction and maintenance