Tools
All the tools you need to work with optics fiber.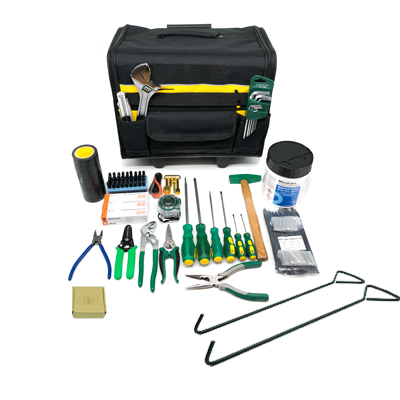 TELECOM TECHNICIAN SUITCASE
Our experts have designed complete solutions in terms of tools to support telecom technicians on each of their interventions. This case contains everything you need to perform interventions in a fiber environment.
You will find in the suitcase:
1 suitcase on wheels, 1 wire stripper FO, 1 Kevlar scissors, 1 sheath key, 1 headlamp, 1 set of 6 screwdrivers, 1 electrician's knife, 1 cutter, 1 set of allen keys, 1 spanner with a wheel, 1 cutting pliers, 1 needle-nose pliers, 1 water pump pliers, 1 steel tape measure, 1 cleaner pen, 1 standard hammer, 1 sachet of pre-saturated wipes, 2 plate hooks, 8 rolls of black tape, 1 sachet of smooves of 45 and 1 bag of 100 black collars.
You can add products below to complete your suitcase.