Tools
All the tools you need to work with optics fiber.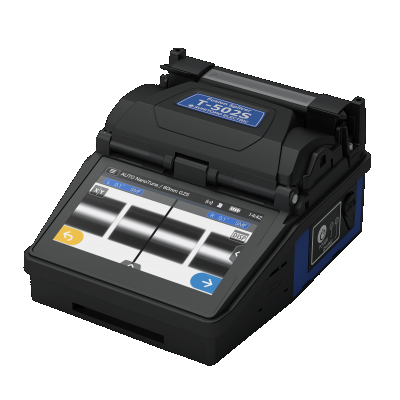 SUMITOMO T-502S OPTICAL SPLICER
Sumitomo Electric launches the T-502S, the world's first AI-programmed next-generation active alignment fusion splicer.
With new features and new technologies, the T-502S series offers improved performance, reliability and user experience. The T-502S series retains Sumitomo Electric's industry-leading features, including a world-class lightweight and compact frame* ² , fast splicing and environmental sustainability.
NanoTune™
The T-502S is powered by our NanoTune™ AI technology, which dramatically improves splicing efficiency and accuracy regardless of operating conditions and user skill.
Hot core analysis
The T-502S provides accurate loss estimation by analyzing the fiber image using high quality microscopes during splicing.
Detection of MMF and SMF fiber types
As a world first, the T-502S introduces the fiber type detection function in an active splicer. This allows the T-502S to distinguish between MMF and SMF fiber types and ensure the correct splice program is used.
SumiCloud™
SumiCloud™ *³ adds wireless LAN *⁴ connectivity to the T-502S. This provides access to a suite of cloud-based productivity services through our smartphone app. SumiCloud™ includes a preventative maintenance feature, Over The Air firmware updates and the ability to create and send job reports to the cloud. A web browser-based management interface allows managers to review splicer reports and performance, and remotely lock units in the event of theft.
These four features result in the highest quality and most efficient splicing operation
Technical description
Welding time :

6s

Autonomny :

250 splices

Protection :

IP51

Weight :

1.1
Characteristics
Color :

Black

Matter :

Steel

Electrode life :

6000 bows
Appliance
LAN connection
FTTH customer connection
FTTH connection